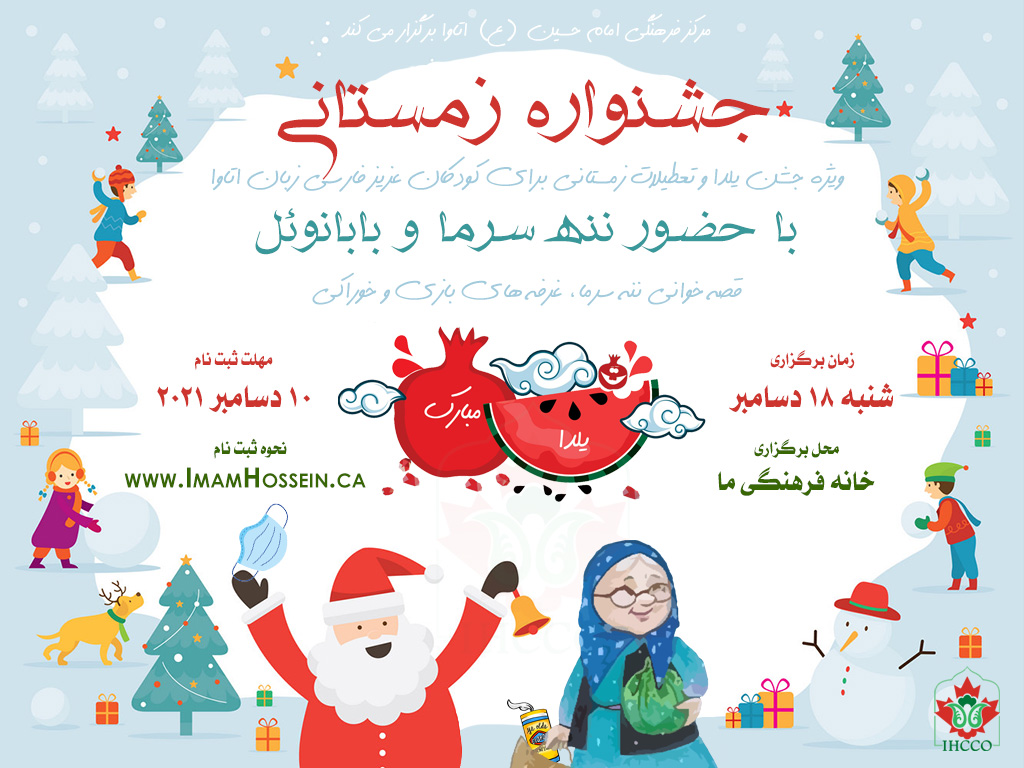 Kids Yalda & Winter Festival
Dear friends,
We are so excited to invite your beloved children to join the Winter Festival with Nane-Sarma (Granny Frost) and Santa!
On December 18, 2021
At Community Cultural Centre (CCC)
To register, please fill out this form by December 10, 2021!

Please note that:
– The admission fee for every 2–12 years old kid (including an accompanying adult) is $15.
– $10 per person for more than one adult.
– You could have refreshments, buy products, and take family photos by paying on the spot.
– To comply with health protocols, visits will be scheduled. More details to follow soon!
⚠️ The elevator is out of service. 
🦠 Participants need to fill out the COVID-19 screening form before they arrive at the venue, which requires 2 shots of vaccine, no symptoms, and wearing a mask. 
Stay safe!
IHCCO Public Relations
Disclaimers:
– IHCCO takes no responsibility and liability in babysitting the attending children in its events.
– By taking part in this event you grant the IHCCO full rights to use the images resulting from the photography/video filming for fundraising, publicity or other purposes to help achieve the centre's aims. This might include (but is not limited to), the right to use them in their printed and online publicity, social media, press releases and funding applications.
– For more information, please text us at 613-434-3454.